This movie review covers the boy in striped pajamas without giving spoilers away so you don't miss out on watching it. This review of the boy in striped pajamas summarizes the characters, plot, and elements of the movie.
ABOUT THE BOY IN STRIPED PAJAMAS MOVIE:
A film adaptation of John Boyne's novel of the same name, The Boy in Striped Pajamas opens with a Nazi flag-waving. The movie is directed by Mark Merman and produced by David Hayman. Released on September 12, 2008, the movie is about a child's experiences.
By itself, the flag provides us with a hint about the location and time of the movie. Located in Berlin, Germany. In addition, we get a little idea about the theme given that the time is during World War ll. Our two young protagonists, Bruno and Shmuel, sit astride fence in the movie poster.
Bruno, played by Asa Butterfield, is dressed in tidy shorts, a shirt, and a sweater. While Shmuel, portrayed by Jack Scanlon, appears behind the fence in an overall suit which is very filthy and very different from Bruno's look. As a result, we can see the many sides to one community. The Holocaust is unusually and powerfully unsettling. In the following movie review on the boy in striped pajamas, we will discuss the storyline and look at the different aspects of the film.
STORY-LINE OF THE BOY IN STRIPED PAJAMAS:
A boy named Bruno, who is 8 years old, is the protagonist of the story. An innocent child living during World War II in Berlin, who is simple-minded and naive about the world. Among his family members are his older sister Gretel (Amber Beattie), his mother Elsa (Vera Farmiga), and his Nazi father Ralph (David Thewlis). Suddenly, his life changed after his father met Hitler for dinner. And his father gets a promotion as Commandant. As a result, they move to Oshawa as a family.
Leaving behind his three best friends, Bruno's life becomes less fun. Afraid and lonely, he walks around behind his house to see what's around him. While exploring one day, he encounters Shmuel (Jack Scanlon), a Jewish boy his age. The two kids form an unlikely friendship that makes a strong statement about the world around them.
It might not be courageous, but Bruno's friendship with Shmuel is nonetheless brave (since he's bored and ignorant and Shmuel is his only friend). Nevertheless, it reveals the beauty of childhood, as well as the wickedness of adults. Although Bruno is initially convinced by his father and the surrounding soldiers that he must agree with their hatred for his Jewish friends.
The Realization…..
He discovers that something is seriously wrong after questioning his dad's moral goodness and teachings by Herr Liszt (his home tutor). "There's such a thing as a nice Jew, is there not? A tutor replied, "I think Bruno would be the best explorer in the world if he ever found a nice Jew." Bruno replied, "I think that's true."
At the "farm" (concentration camp), Shmuel's father goes missing one day. Bruno agrees to help his friend find him, saying, "It will be like an adventure!" Shmuel gets Bruno some "pajamas" so he won't draw attention. Under the fence, Bruno digs a trench (precise and enormous). Until he confronts the horror within the fence. Once frightened, he gathers himself and decides that it is best to face his fear than to remain in his fright.
THE BOY IN STRIPED PAJAMAS REVIEW
The perspective of the movie is admirable. From the point of view of an eight-year-old boy, the story unfolds. The experience is like returning to the horrors of Nazi Germany with a child's curiosity.
The child doesn't understand why there is a difference between him and Shmuel. Although he is surrounded by adults who insult Jews. Ultimately, Bruno comes to see Shmuel and Pavel (their Jew servant) through the lens of his own positive, firsthand encounter with them.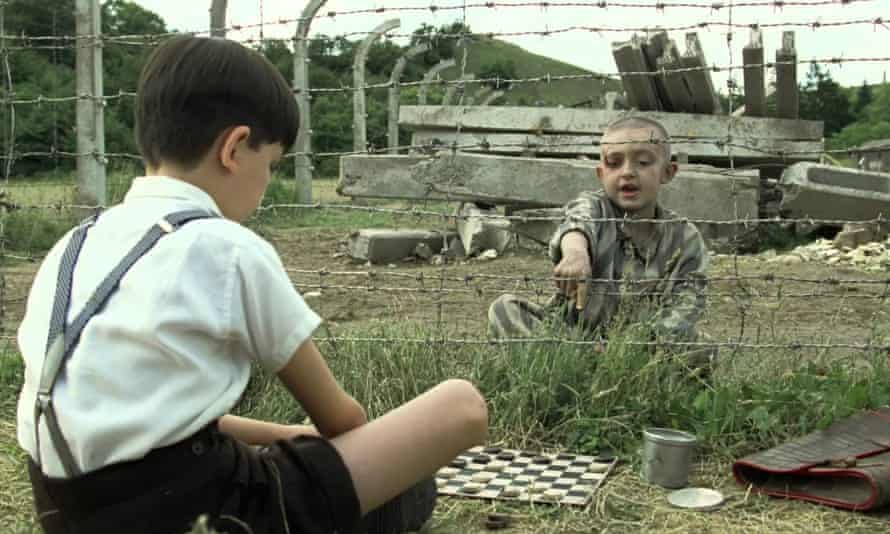 In general, it's a movie worth watching. Because the film is set against the horror of the Holocaust, Bruno's inexperience and investigative spirit are made to seem even more innocent. A young boy's innate ability to recognize Jews as real people and his inability to understand prejudice and killing.
CONCLUSION
The film presents a stark contrast with Nazi cruelty, illuminating its viciousness and iniquity. With breathtaking force, a significant plot twist is revealed. In addition to how evil behavior eventually affects perpetrators as well as victims.
Words and images combine in The Boy in Striped Pajamas to demonstrate the power of words. Unlike his father, Bruno isn't certain how to approach the job his dad performs. Until he sees a propaganda video in which the death camp is described as a wonderful place with "hearty, nutritious meals," and cameras show seemingly happy Jews smiling and waving. Having watched the film with his father, Bruno proudly hugs him.
There is a saying that says if history is forgotten, it will be repeated. Consequently, the most profitable thing about the film is the fact that it reminds us of our global history of brutality without being gory or explicit. Atrocities like the Holocaust must be remembered and kept in mind. Be mindful of the millions who have lost their lives because of hatred and greed.
Soul-crushing and heartbreaking! As a part of our collective identity, the Boy in the Striped Pajamas is a piece of the puzzle that shows who we were, who we are, and who we don't want to be.
Viewers can gain an insight into this masterpiece on:
MIRAMAX: https://www.miramax.com/movie/the-boy-in-the-striped-pajamas/
AMAZON PRIME: https://www.primevideo.com/detail/The-Boy-In-The-Striped-Pajamas/0JC8BLWTGC2DZIR5SPHQQ3D0NY
Do share your thoughts and experience about the movie in the comment section below!