Sanjana Sanghi makes her Bollywood debut with Mukesh Chhabra's Dil Bechara. In usual circumstances, this film could have been a theater release. It's finally here! Disney+Hotstar aired the movie at 7.30 pm on July 24.
We have Dil Bechara here to save your day during this difficult time. When family and friends are away from you. Let's get to the movie review of Dil Bechara.
Ek tha raja, ek thi rani… Dono marr gaye. Khatam kahani!
We all learned this lesson from Sushant Singh Rajput in real life. Knowing the story of The Fault In Our Stars will give you an idea of what Dil Bechara will be like. Nevertheless, Sushant Singh Rajput's song, from his last film, remains one of his best works.
In addition to its length of one and a half hours, Mukesh Chhabra has beautifully directed it. In regards to the location, Jamshedpur is described just right in terms of gist and accent. Each actor in the movie blended into his or her character.
You can watch the trailer of the movie here.
DIL BECHARA STORY:
Most of the story is depicted in the trailer for Dil Bechara. There is nothing complicated about it. As we all know, Kizie Basu (Sanjana Sanghi) suffers from cancer. The oxygen cylinder Pushpinder is always with her. Her first kiss is obstructed by the pipes.
Manny, also known as Immanuel Rajkumar Junior (Sushant Singh Rajput), enters her life by dancing in the jersey of Reggie Miller. Saswata Chatterjee plays Kizie's father.
Their lives have been equally challenging.
But when the woman, the dangerous Bengali Kizie, and her mother, the even more dangerous Swastika Mukherjee (Swastika), are concerned about living their lives. Mandy enters Kizies' life like a ray of sunshine and teaches her how to live.
DIL BECHARA MOVIE THEME:
This movie features a lot of themes like:
Friendship: The base of this movie is friendship. It all starts with this. Without any expectations without any demand. they just give each other a chance by choice to be with each other.
Love: The next big theme. It focuses not only on the love that brews between Manny and Kizie. But also the love she and support she gets from her family.
Family: A very strong and integral part of this movie and Kizie's life.
Helplessness & Sorrow: Just imagine a situation where you know that the person you are now with is going to die. the time that you have with that person is limited. And, not being able to do anything about it. The feeling of helplessness can be felt in the entire movie. It's like a background theme, nobody is saying anything about it but it's there similar to sorrow.
You wish to cry but you can't you have to be strong. It'll really break your heart to see her parents rushing to the hospital with she gets an attack.
DIL BECHARA MOVIE REVIEW:
Okay, so the movie is a remake of Fault in our Stars, but it also resembles a very famous book name A Walk To Remember. Both of these movies are marvelous and must-watch.
You are guaranteed a lighthearted day thanks to the collaboration of director Mukesh Chhabra and composer A.R. Rehman. Particularly the chartbuster title song, Dil Bechara.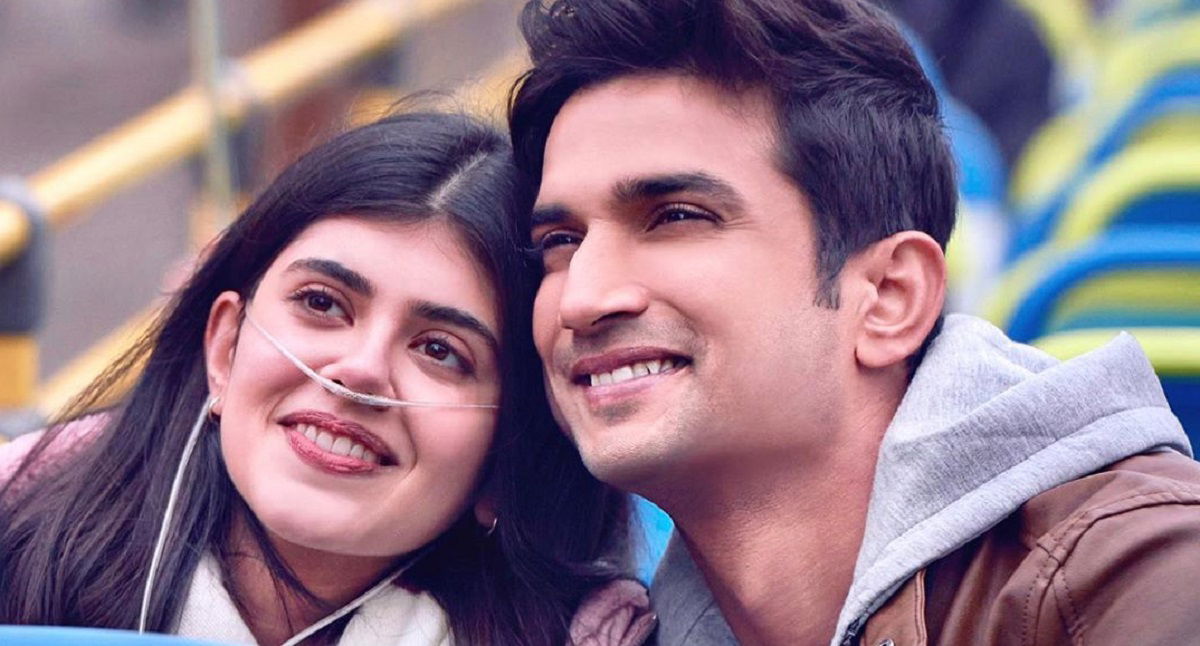 Likewise, Safi Ali Khan's five-minute special appearance leaves a lasting impression. Sanjana Sanghi makes a commendable debut with Dil Bechara. Despite being overpowered by reviews for Sushant Singh Rajput. The three well-known Bengali and Hindi film names. Swastika and Saswata, along with Sanjana, perfectly fit together in the frame of this little middle-class Bengali family in Jamshedpur.
The story of Sanjana highlights the vulnerability of a person living with the knowledge of death. Against this inevitability, Manny laughs. Eventually, death comes. We don't stop living just because we die, do we?
In this movie, Dil Bechara addresses the unavoidability of death. And, the fact that nothing can stop you from being as happy as you possibly can. It is an incredibly beautiful movie. Death is not overpowered by the thought of approaching death. But, rather seen as a natural part of life. Beautifully portrayed, and portrays the gist of a life lived to its fullest.
You will be speechless when Sushant Singh Rajput shows up with his charming smile, excellent acting skills, and stunning dancing skills.
The pain on those words will go down your spine during the movie
Dil Bechara when Manny says, "I dream big," followed by "lekin adhoora chhod deta hoon". His final project will forever remain in our hearts, even though it was his last.
This is Sushant Singh Rajput's real farewell.
Please let us know your thoughts about the movie in the comment section below if you enjoyed the movie review of Dil Bechara.
Here, you can watch it on:
HOTSTAR: https://www.hotstar.com/in/movies/dil-bechara/1260036017
Do check our review of A walk to remember: https://www.reviewsha.com/book-review-a-walk-to-remember/