Hey Everyone, we are back with our new Pleasance Review of the Movie Sense and Sensibility (1995)! Wondering why I am calling it Pleasance? Because, as all Jane Austen adaptation features lively theme, scenic views, beautiful mansions, authentic costumes. So, without any further delay lets get started with A PLEASANCE REVIEW OF THE MOVIE SENSE AND SENSIBILITY (1995).
Let, neither Pride nor Prejudice dissuade you from the abundant pleasures of "Sense and Sensibility". Based upon Jane Austen's satire of 18th-century dating games, this rapturous romance is not only laugh-out-loud funny. But demonstrates how little humankind has evolved in matters of the heart.
Emma Thompson, who plays the sensible Elinor, the eldest of the poor but pretty Dashwood girls of Sussex. And, it's Emma Thompson who also wrote the adaptation. It is both her first script and the first non-Chinese project for Taiwanese director Ang Lee. Famous for films "Pushing Hands," "The Wedding Banquet" and "Eat Drink Man Woman", which expose the comic nuances of love and family life. Lee might be more familiar with green tea than Earl Grey. But, it's hard to imagine anyone better suited to this material.
Decked out in silver sets and nicely trimmed topiary. The story begins in what was the opulent Georgian estate of the second Mrs. Dashwood (Gemma Jones), whose circumstances are much reduced upon her husband's death. By law, the property passes to John (James Fleet), his son by his first wife and a henpecked boob who goes back on his promise to provide for his stepmother and half sisters.
Indeed, Mrs. Dashwood and her daughters are still wiping away the tears when John and his odious wife, Fanny (Harriet Walter), move in. And, eventually begin to elbow them out of their home. If Elinor and her ebullient younger sister, Marianne (Kate Winslet), are to regain a comfortable living and their status. They must attract suitable husbands despite their lack of dowries.
Elinor,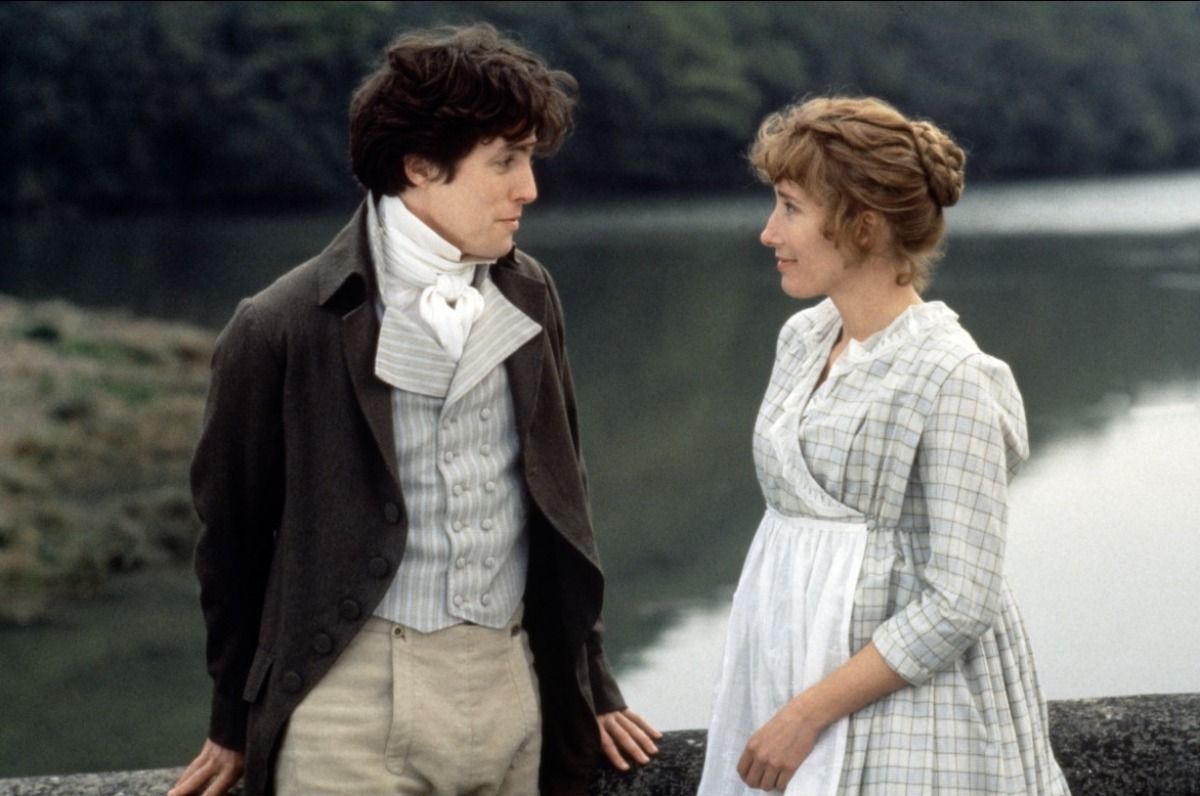 —19 in the novel but in her twenties here. She is believed well on her way to spinsterhood, when she attracts the attention of Fanny's bashful but ingratiating brother Edward (Hugh Grant). But before the two have a chance to express their feelings, Fanny sends Edward off to London on urgent business. And, when a wealthy country cousin offers them a cottage on his estate, the Dashwood women retreat to Devonshire and a life of decorous poverty.
Marianne,
her practical sister's emotional opposite. She is soon swept off her feet by a figure off the cover of a romance novel—the dashing John Willoughby (Greg Wise). Though Elinor urges discretion, the reckless Marianne is soon flaunting her passionate if chaste affair.
Just when the pot is boiling, however, Willoughby too departs for London on urgent business. But not before another of Marianne's admirers, the Byronic Col. Brandon (Alan Rickman), sets out for the city on a matter of mysterious urgency. The young ladies soon follow their hearts' desires to London, only to learn that they've been replaced by wealthy rivals.
Each responds according to her temperament. Though, neither Elinor's common sense nor Marianne's romantic "sensibility" alone can assure a happy ending. The solution, of course, is learning to balance the two.
"Sense and Sensibility," elegantly staged and masterfully acted down to the smallest role. It requires a bit of patience toward the end, as the outcome becomes increasingly obvious. But, what romantic comedy does not broadcast is its good intentions well in advance?
I hope you liked our A PLEASANCE REVIEW OF THE MOVIE SENSE AND SENSIBILITY (1995), you can watch the movie by clicking the links below:
Lots Of Love,
ReviewSha 🙂
Since You Are Here…
Do checkout our reviews on:
ALIAS GRACE REVIEW: A TRUE-CRIME MINISERIES ON NETFLIX
REVIEW OF THE MOVIE: THE INTERN