IMPORTANT WORKS OF ANGLO-SAXON ERA
Hello lovely people! I hope everyone is doing great, so today we are going to look into the important works of Anglo-Saxon Era. Basically the time when literature actually started. It was new and the purpose of it was to share biblical thoughts. Later on, literature also was turned out to be a source of entertainment.
Soo, lets get started with the Important works of Anglo-Saxon Era!
IMPORTANT WORKS OF ANGLO-SAXON ERA: OLD ENGLISH POETRY
BEOWULF (FIRST EPIC)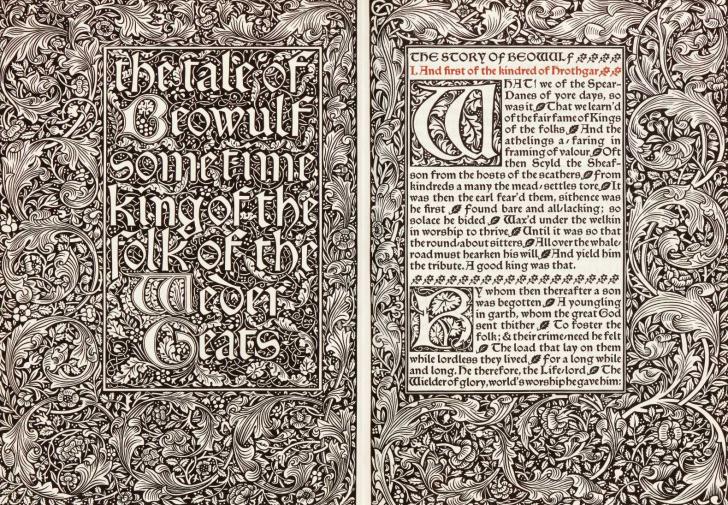 There are so many episodes and digressions in the of the story of Beowulf. It is almost impossible briefly to give an adequate synopsis of the narrative. So, to give an outline it may be said that Beowulf, son of Ecgtheow, sails to Denmark. With a band of warriors, rids the Danish King Hrothgar of a terrible mero-monster called Grendel. The mother of Grendel, seeking vengeance for the death of her son, meets the same fate. And Beowulf, fittingly feasted and rewarded, returns to his native land. He becomes king of the Gestas. And after a prosperous reign of some forty years slays a dragon, which had ravaged his land. But, in the fight he himself receives a mortal wound. The poem concludes with the funeral ceremonies in honor of the dead hero.
Wish to Read?: Buy it Here (US) | Buy it Here (INDIA)
IMPORTANT WORKS OF ANGLO-SAXON ERA: OTHER POETRY
THE PAGAN POEMS:
Most Old English poetry can be said to be Christian,' but a few pieces are distinctly secular. It would be better in many respects to refer to them as 'national' rather than Dee for some included for convenience in this group are of tenth- pagan, century composition.
1. WIDSITH
Widsith (i.e., 'the far traveller'), usually considered to be the oldest poem in the language. It consists of nearly 150 lines of verse. In which a traveller, more imaginary than real, recounts the places and illustrious people he has visited. The poem is of especial importance from a historical point of view, but poetically it is of little merit.
Wish to Read?: Buy it Here (US) | Buy it Here (INDIA)
2. WALDERE
Waldere consists of two fragments, some sixty-three lines in all, telling of some of the exploits of Walter of Aquitaine. The Vigor and power, and it is to be greatly regretted that so little is preserved. It might well have been one of the finest of narrative pieces.
Wish to Read?: Buy it Here (US) | Buy it Here (INDIA)
3. THE FIGHT AT FINNSBURG
The Fight at Finnsburg is a fragment of some forty-eight lines. With a finely told description of the fight at Finnsburg. Allusion to which also features in the Finn Episode in Beowulf.
Wish to Read?: Buy it Here (US) | Buy it Here (INDIA)
4. THE BATTLE OF BRUNANBURH
The Battle of Brunanburh is a spirited piece on the famous work has battle which took place in 937.
Wish to Read?: Buy it Here (US) | Buy it Here (INDIA)
5. THE BATTLE OF MALDON
The Battle of Maldon describes the battle which took place in 993. With emphasis on individual deeds of valour and on the feelings of the warriors. It is particularly outstanding for the sentiments expressed by the warriors, especially those of the aged Bythtwold.
Wish to Read?: Buy it Here (US) | Buy it Here (INDIA)
THE ELEGIES: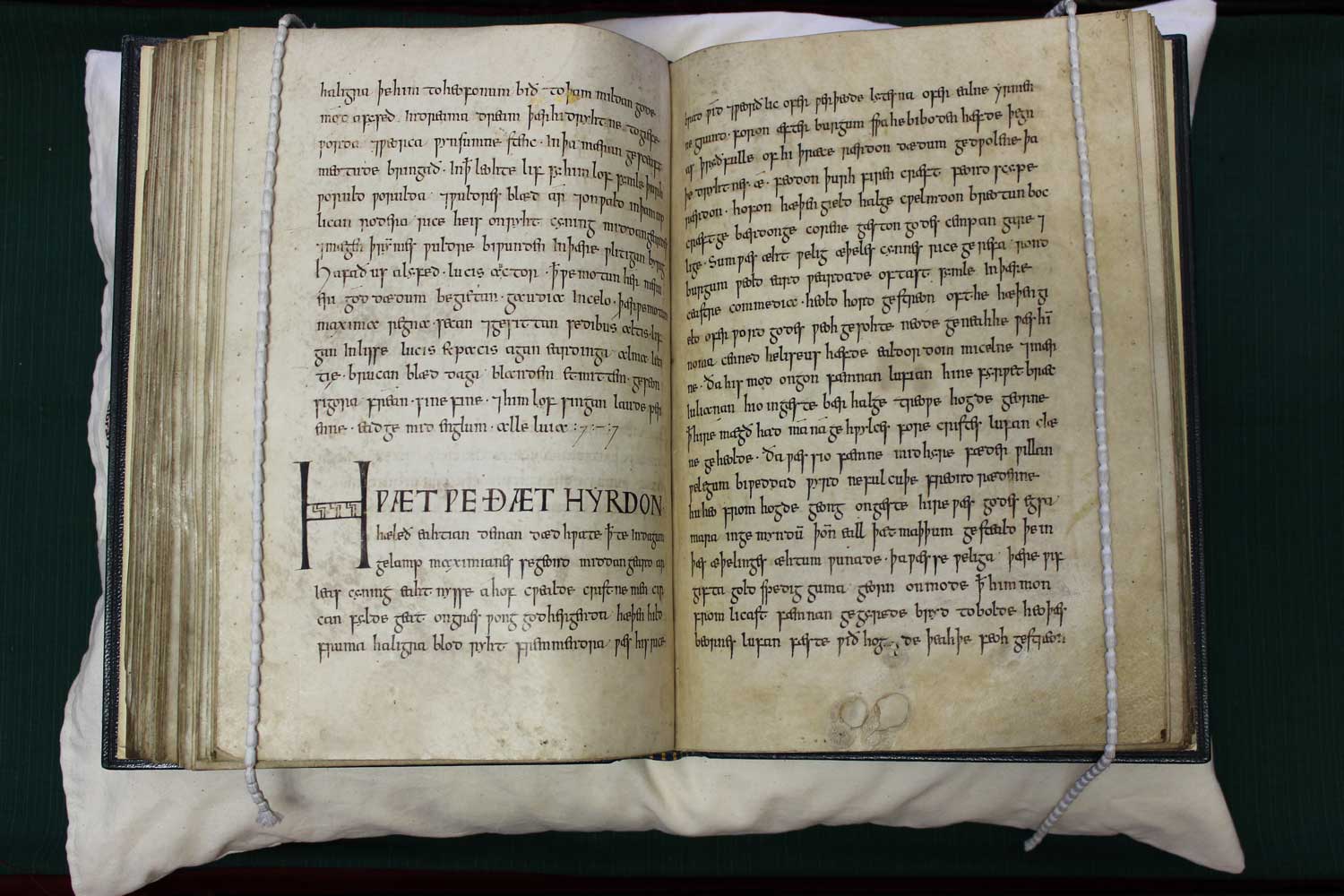 These poems, among which are The Wanderer, The Seafarer, Wife's Lament, and Husband's Message, appear in the Exeter Book. There is no connection between the individual pieces but they each display similar qualities. Being meditative in character and can perhaps be called monologues. The first two named are the finer artistic compositions, reaching real heights of personal feeling In Old English literature. They come nearest to the lyric, a type which is not represented among the extant corpus.
Wish to Read?: Buy it Here (US) | Buy it Here (INDIA)
THE CÆDMON GROUP
In his Ecclesiastical History Bede tells the story of the lay brother Cædmon, who by divine inspiration was transformed from a state of tongue-tied in effectiveness into that of poetical ecstasy. He was summoned into the presence of the abbess Hilda of Whitby (658-80), and became a monk. And afterwards sang of many Biblical events.
Bede quotes in his story the Hymn said to have been composed by Cædmon, nine lines in length. Displaying to a remarkable degree the qualities of repetition and parallel phrasing noted above. This is all that is actually known of the life and work of Cædmon. But, the four poems of the Junius MS correspond in subject matter so closely to Bede's statement of the themes. On which Cædmon wrote that they were long associated with his name.
The Genesis, Exodus, Daniel, and three shorter poems often considered as one under the title Christ and Satan are of unequal merit. At best they are strong and spirited with some gift for descriptive writing and choice of incident; at worst they are tedious paraphrases of Biblical stories. They are certainly not all by one hand, and little if any is carly enough to be ascribed to Cædmon himself. In all probability in spite of their long ascription to his name they have nothing to do with the Northumbrian poet himself.
Wish to Read?: Buy it Here (US) | Buy it Here (INDIA)
THE CYNEWULF GROUP
Four poems contain the signature of Cynewulf in runic characters, Juliana, Elena, Chrit, and The Father of he Parler (in the two last names spelt Cynewulf). This is all that is noun of the poet, thought unfortunately it has not prevented critics from deducing' additional facts about his life. Likewise other have on little or no authority been ascribed to him. The most important being The Dream of the Rood. Undoubtedly the finest of all English religious poems in its intensity of feeling, brilliance of conception, and certainty of execution. It is the work of a real artist and poet. The signed poems are much more scholarly compositions than the Candyman poems. There is a greater power of expression, surer technique, and real descriptive powers. The ideas are broader and deeper, and a certain lyrical quality is found at times. Their dates probably ninth century.
Wish to Read?: Buy it Here (US) | Buy it Here (INDIA)
IMPORTANT WORKS OF ANGLO-SAXON ERA: PROSE
ALFRED
Though there were some prose writings of an official nuture (such as laws) before the time of Alfred. There can be little objection to the claim frequently made for him, that he is the Father of English Prose. As he himself tells us in the preface to the Pastoral Care. He began his series of translations due to the lamentable state of English learning, largely the result of the depredations of the Danes. Even the knowledge of Latin was declining. So the king, in order to encourage learning among the clergy, translated some popular books into his own tongue. These works are his contribution to our literature.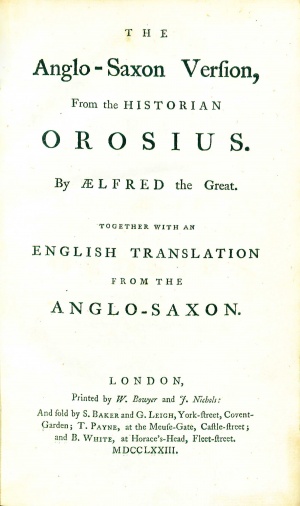 Sometimes, he translated word for word, at others more freely, but those passages which have greatest value both for an understanding of the character of the king and also for their literary qualities are originals freely introduced by way of explanation or expansion. The five important translations are the Pastoral Care of Pope Gregory, the History of the World of Orosius, Bede's Ecclesiastical History, Boethius' Consolation of Philosophy, and the logo of St Augustine. Though, it should be noted that Alfred's claim to the translation of Bede is disputed. There is in addition a Handbook or Commonplace Book. The existence of which we know from Auer, the king's biographer, but which is no longer extant.
Wish to Read?: Buy it Here (US) | Buy it Here (INDIA)
ÆLFRIC
Best known for his Grammar, was a church man who became abbot of Eynsham in 1005. Several of his works are extant: the Catholic Homilies, two series of sermons suitable for delivery by priests. A third series–the Lives of the Saints (written before 996), and translations from the Scriptures. Ælfric's flowing and vigorous style shows remarkable skill in the art of putting complicated thought into narrative form. It is natural, easy and is often alliterative. His Colloquy is of great interest as a dialogue between master and pupils not only from the literary but also from the historical point of view.
Wish to Read?: Buy it Here (US) | Buy it Here (INDIA)
WULFSTAN
Wulfstan was Bishop of Worcester and Archbishop of York. Several of his signed homilies survive. And, there are many more which are believed on good evidence to be by him. His most famous piece is the Sermo Lupi ad Anglos. It is typical for its sheer fore und vigour, its repetition of ideas, and the alliterative nature of its style. It is fluent and powerful, indeed Wulfstan must have been a most brilliant preacher.
Wish to Read?: Buy it Here (US) | Buy it Here (INDIA)
THE ANGLO-SAXON CHRONICLE
The Anglo-Saxon Chronicle was in all probability inspired by Alfred, who himself may well have dictated some of the entries. More particularly those dealing with his own campaign. It is extant in several manuscripts, the most important being the A or Parker and the E or Laud MSS. To the year 915 much of the material is common to most of the manuscripts. Though, the relations of each individual one to the others present serious difficulties. Local events and miscellaneous items are introduced into the various versions. And, they also show clearly varying points of view in their attitude to events. They all end at different dates, the latest being 11S4 (E).
As is to be expected the style varies greatly from simple notices to
long passages of narrative and description. Most interesting are
certain character studies, particularly that of the Conqueror him
sell, while the well-known descriptions of the horrors of Stephen's
reign are worthy of note.
Wish to Read?: Buy it Here (US) | Buy it Here (INDIA)
If you wish to know more about the literature, style and themes of Anglo -Saxon Era, you can buy any of the books listed below:
Do let us know your thoughts about our blog on Important Works of Anglo-Saxon Era in the comment section below.
We will see you soon with a new review. Till then stay happy and stay fit!
Lots of Love,
Team ReviewSha! 🙂
Since You Are Here…
Do check out Reviews on:
MIRACLES FROM HEAVEN MOVIE REVIEW
MOVIE REVIEW THE BOY IN STRIPED PAJAMAS